Cataract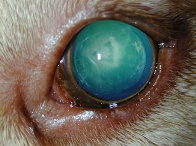 Project description
Cataract refers to opacification of the lens. Cataract is the leading cause of blindness in dogs: more than 100 different dog breeds suffer from it. Cataract cases are subdivided into several groups based on the dog's age at diagnosis and initial site of the cataract formation.
Breeds
Alaskan Malamute, American Cockerspaniel, Belgian Shepherd (Groenendael, Malinois, Tervueren), Bichon Frisé, Karelian Beardog, Miniature Pincher, Miniature Schnautzer, Labrador Retriever, Rottweiler, Samoyeed, Sarloos Wolfhond, Flat-Coated Retriever, Siberian Husky, Finnish Lapphund.
Samples from cataract affected dogs from all breeds are welcome.
Which samples are needed:
dogs that have been diagnosed with cataract
close relatives (parents, siblings, offspring) of the affected dogs
healthy dogs over 6 years of age
Veterinary certificate copies requested from all eye examined dogs
veterinary ophthalmological certificates
other veterinary certificates
Links:
Contact us:
Maria Kaukonen, DVM (maria.kaukonen@helsinki.fi)
phone +358 (0) 29 4125678
---