Osteochondrosis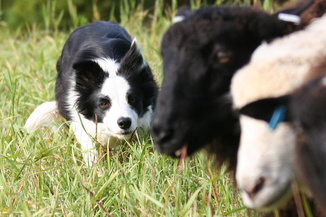 Project description
Humeral osteochondrosis (ostechondritis, OC and ostechondritis dissecans, OCD) is an orthopedic disease seen in young growing dogs. It is common in large-sized dog breeds but also in Border Collies. The clinical signs typically begin at 4 to 7 months of age and include lameness, joint swelling and pain. Shoulder is the most commonly affected joint in Border Collies but lesions can be seen in other joints such as in tarsal or elbow joint. Dogs can be affected uni- or bilaterally. Etiology of osteochondrosis is thought to be multifactorial meaning that both genetic and environmental factors are involved. Our aim is to identify genetic factors that predispose Border Collies to osteochondrosis.
Studied breed
Border Collies
Which samples are needed
blood samples from OCD-affected Border Collies
blood samples from Border Collies that have been radiographically confirmed to NOT have osteochondrotic lesions
Copies of diagnoses and other information needed
We would like to have the following information, if possible.
case history: which joints are affected etc.
digital copies of x-rays to confirm the health status of sampled dogs (send to email address below)
pedigree, if the dog is not Finnish (send to email address below)
How to participate
Instruction for sample collection and shipping here.
Contact us
Marjo Hytönen, PhD (marjo.hytonen@helsinki.fi)
Information about sample collection and shipping: lgl-kyselyt@helsinki.fi
---